The Nathan and Suzanne Efron Contact Lens Library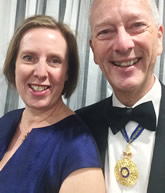 The Efron Library is a collection of over 200 books on contact lenses dating from 1902. It documents the big moments of technological advance in contact lenses, the changes in the clinical practice of fitting contact lenses and the widening scope of the application of contact lenses since the 1940s.
The Library was assembled by Nathan and Suzanne Efron during their careers in optometry and was gifted to the Kett Optometry Museum by them in 2016. They also made financial provision for the purchase of additional books so it can remain a living library.
Nathan Efron was Research Professor of Optometry at the Queensland University of Technology from 2006 until his retirement in 2016, where he is now Professor Emeritus. He was a leading researcher and author in the physiology and pathology of the cornea and the development of safe and physiologically compatible contact lenses. He was made a Companion of the Order of Australia in 2015 for his eminent service in the field of clinical optometry as an author and researcher. Suzanne Efron qualified in optometry at the University of Manchester with BSc (Hons) and MPhil and is a highly experienced optometrist in both contact lenses and primary care optometry. She also spent time as a researcher at Eurolens Research and has a number of research publications to her credit.
Browse the Collection using the Search Function
See all Efron Library Books by searching for Category 'book' and Sub-category 'Efron Collection' or search by Key Word or Author
The Collection is held in the Entry Foyer of the Nathan Library
Books in the Efron Collection can be borrowed
Collection highlights of historical interest
Fick AE. Diseases of the Eye and Opthalmoscopy. A Handbook for Physicians, Opticians, and Students. Manchester: John K. King & Son; 1902
Obrig TE. Contact Lenses. Philadelphia: The Chilton Company; 1942
Anderson A. Technique of Fitting Contact Lenses. Minneapolis: McGill Lithograph Company; 1944
Dickinson F, Clifford Hall KG. An Introduction to the Prescribing and Fitting of Contact Lenses. London: Hammond, Hammond & Company Limited; 1946
Salvatori PL. A Scientific Method of Fitting Contact Lenses. New York: Self-published; 1947
Treissman H, Plaice EA. Principles of the Contact Lens. London: Henry Kimpton; 1946
Bier N. Contact Lens Routine and Practice, Second ed. London: Butterworths Scientific publications; 1957
Mandell RB. Contact Lens Practice: Basic and Advanced. Springfield: Charles C Thomas; 1965.