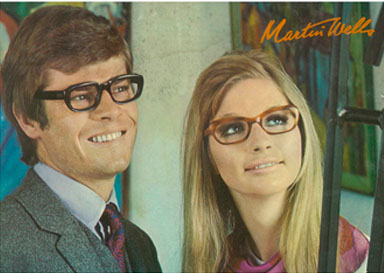 Advertising display cards for spectacle manufacturer Martin Wells
Category:
Memorabilia and ephemera
Sub-Category:
Advertising, trade and products
Corporation:
Martin Wells Pty Ltd
Time Period:
1940 to 1999
Description Of Item:
Two advertising display cards 216 x 197 mm and 132 x 195 mm with cardboard fold out stand on back bearing printed colour image of (A) a male and female models wearing spectacles, and (B) a female model also wearing spectacles, both display cards carrying the logo of Martin Wells. Also included with this item are (1) a print-out of Wikipedia entry for Sidney Sinclair OBE AM founder of Martin Wells, (2) a print out of two articles by Eric Hurst, Managing Director of Martin Wells, published in Aust J Optom October 1963 pp 277-283 and September 1968 pp 260-261, and (3) a single sheet photocopy of two clippings from the trade newspaper 'Insight' of October 1998 reporting the closure of Martin Wells in 1998
Historical Significance:
Up to the 1950s spectacle frame styles were very limited. The most common styles were flesh and demi-amber plastic frames with full-vue lens shape and plastic hockey sides, steel frames covered with imitation tortoise shell and curl sides, and rimless glasses. They were not fashion items: ornaments were rare and colours limited although some spectacles in the 19thC and early 20thC were finely made, sometimes using rare materials. In the mid 20th C spectacles became fashion items with diversity of shape, decoration and colour. Martin Wells was an Australian spectacle frame manufacturer founded in 1953 by business man Sidney Sinclair OBE AM (1915-1999), optometrist Eric Hurst and Dino Zigarelli, a spectacle frame expert. Martin Wells produced a range of spectacle frames in the 1950s and 1960s that were highly popular in Australia and ushered in a new era of fashion into spectacles in Australia. It closed in 1998 as it was unable to compete with overseas competition.
Condition:
Good except both have water stains on back
Location:
Archive office. Pamphlet and ephemera filing cabinet. Drawer 3