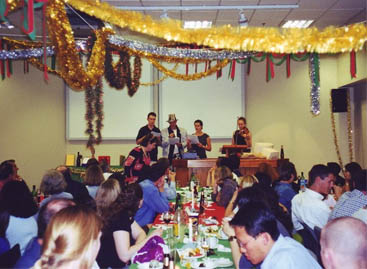 Songs composed for and sung at the annual staff christmas party of the Victorian College of Optometry 1995 to 2000
Category:
Memorabilia and ephemera
Sub-Category:
Memorabilia
Institution:
Staff of the Victorian College of Optometry
Time Period:
1940 to 1999
Place Of Publication/Manufacture:
Melbourne
Description Of Item:
12 A4 pages of typescript being the songs written for and sung at the staff Christmas Party of the Victorian College of Optometry
Historical Significance:
The College has had a staff Christmas party since about 1964. At first it was a somehat formal occasion (stand-up drinks and finger food) to which senior adminstrators and academic staff of Departments that taught into the optometry course were invited along with College councillors and staff of both the College and the Department of Optometry. It transformed to a staff only party about 1990. This was a sit down Christmas lunch in the Amies theatre with speeches and entertainment. The entertainment always included songs from the talented musicians on the staff or among the post-graduate students, who composed and performed parody songs for the day. This is a record of those songs from 1995 to 2000. The picture is of the 1999 Christmas party and shows the singers of that year, who include Andrew Anderson. Piers Carozzi, Jennie Cooke and one other.
How Acquired:
Record of VCO
Location:
Archive office. Pamphlet and ephemera filing cabinet. Drawer 3