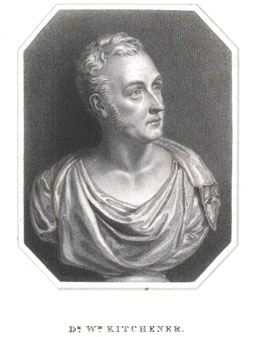 The economy of the eyes: precepts for the improvement and preservation of the sight. Plain rules which will enable all to judge exactly when, and what spectacles are best calculated for their eyes.
Sub-Category:
Significant book (Aitken collection)
Author:
KITCHINER, William
Year Of Publication/Manufacture:
1824
Place Of Publication/Manufacture:
London
Publisher/Manufacturer:
Hurst, Robinson & Co.
Description Of Item:
The book is hardcover, rebound in black imitation leather, 170 x 105 mm with 246 pages. It includes observations on opera glasses and theatres and an account of the pancratic magnifyer for observation of double stars and day telescopes
Historical Significance:
The title page claims an MD for the author who has publications other than this one to his credit including a cookery book, several books on music and one on the art of prolonging and invigorating life. Kitchiner (1775 - 1827) of London is best known as an epicure and for his book on cooking. It is said he was educated at Eton although he was the son of a porter. He is said also to have invented the pancratic telescope (described in this book) which has an adjustable eye piece for varying magnification.
How Acquired:
Donated by Michael Aitken, honorary archivist
Location:
Nathan Library. Aitken collection