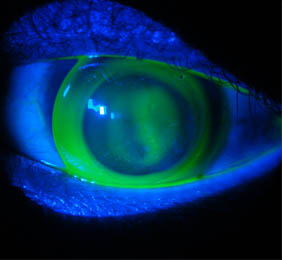 Slit lamp procedures in fitting contact lenses
Sub-Category:
Book of historical note
Author:
ERICKSON Charles E
Year Of Publication/Manufacture:
1964
Time Period:
1940 to 1999
Place Of Publication/Manufacture:
Bothell, Washington
Publisher/Manufacturer:
Olympic Litho
Description Of Item:
Dark brown plastic cover, spirex bound, 65 pages, 3 pp preliminaries. 59 figures in text several in colour. 6 references Printed label in front fly leaf for previous owner Dr T F Spring 20 Collins Street Melbourne.
Historical Significance:
Slit lamps were not much used for contact lens fitting before the middle of the 20thC and their use for fitting contact lenses would have been rare until after 1960. While the slit lamp had been devised by Aubert in 1891 it did not get widely accepted for some years. Doggart argued the value of biomicroscopy in 1948 (Br J Ophthal 1948; 32: 232-247) and said that while some ophthalmologists went to Switzerland after World War 1 to look at the then new slit lamp but many regarded it as an unnecessary luxury. They said a loupe was as good. Optometrists in Australia did not begin to adopt the slit lamp until the 1960s when at the same time fitting of contact lenses began to move into mainstream practice following the introduction of PMMA corneal lenses in the 1950s. Prior to that only a few practitioners fitted contact lenses which were glass or PMMA haptic lenses. Charles Erikson was a second generation ocularist (maker of artifical eyes) who worked in Seattle Washington. He clearly also turned his hand to contact lenses and is the holder of a patent 4121885 1978 for a production of a composite contact lens using hydrophilic material. The former owner, Dr Spring, was one very few Australian ophthalmologists who took up contact lens fitting in the mid 20th C.
How Acquired:
Donated by Michael Powell
Location:
Archive room. East wall. Books of historical note