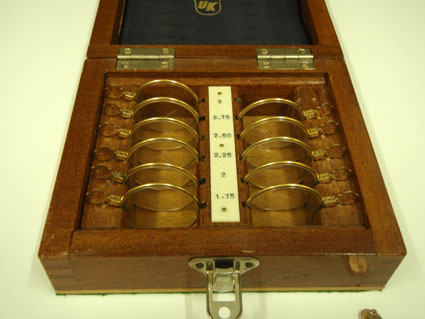 Sub-Category:
Trial lens case
Year Of Publication/Manufacture:
1930s
Time Period:
1940 to 1999
Place Of Publication/Manufacture:
Dayton, Ohio, USA (?)
Publisher/Manufacturer:
Univis Lens Company
Description Of Item:
Small timber cased set of 6 pairs of trial lenses set with Univis D-shaped bifocals. Adds +1.75 to + 3.00. Inside lid lined with blue fabric, printed in white with letters 'UK' in shield. Small round plaque set in top of box 'UNIVIS BIFOCALS'. Latch of case marked 'CHENEY ENGLAND'. Green felt covers base. Case: 14.8cm W x 12.6cm D x 5.2cm H.
Historical Significance:
Univis, a large ophthalmic lens manufacturing company based in the USA started in the 1920s. It built a new plant in north Dayton in the 1940s, employing at its peak 800. The company made various kinds of lenses, for the military and civilians. It produced the first trifocal lens (ref: Grosvenor T Primary care optometry 2007). The marking on the latch of the case suggests the case may have ben made in England or if it was made in the USA, the latch was sourced from England,
How Acquired:
On loan from Optometrists Association of Australia via Joe Chakman
Date Acquired:
02.08.2010
Condition:
Very good, few scratches
Location:
Archive room. West wall. Unit 4 Drawer 3