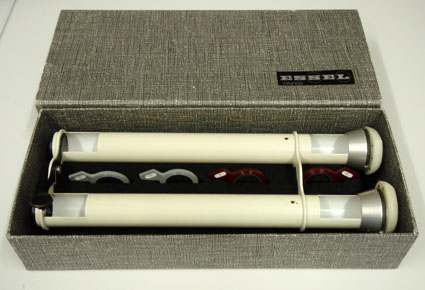 Sub-Category:
PD ruler, pupillometer
Year Of Publication/Manufacture:
1969
Time Period:
1940 to 1999
Place Of Publication/Manufacture:
Paris
Publisher/Manufacturer:
Essel
Description Of Item:
Cased binocular pupillometer of two parallel cream coloured metal tubes. Positive lenses in user's eyepieces. Plastic rims at patient's end have space to allow insertion of supplementary lenses. Millimetre scale allows monocular pupillary distances to be read. Black metal occluder at user's end sprung to occlude each eye alternately. Boxed in grey covered cardboard slip case. 4 supplementary lenses (2 x +3D, 2 x -3D). Imprinted 'TECHNIC ESSEL R'. L: 26.8cm x W:9.8cm x H:4.8cm
Historical Significance:
See also cat No 1702 and 1870.
How Acquired:
On loan from Optometrists Association of Australia via Joe Chakman
Location:
Archive room. West wall. Unit 4 Drawer 3