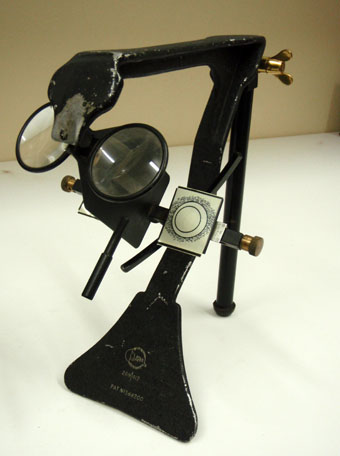 Sub-Category:
Synoptophore, stereoscope
Designer/inventor:
Mary Maddox
Year Of Publication/Manufacture:
c1935
Time Period:
1900 to 1939
Place Of Publication/Manufacture:
London, England
Publisher/Manufacturer:
Clement Clarke
Description Of Item:
Kinetic Stereoscope. Glass, brass & metal in black crackle finish. 2 x 10D eyepiece lenses, a septum separates view of each eye. 2 target stereocards are mounted such that they can be separated and moved through an arc to develop fusion during eye movements Displayed with later stereocards showing Berry's stereoscopic pair of circles. Body imprinted: 'CLEMENT CLARKE LONDON' (in eye-shaped logo). '269/412. PAT 388 200'. H: 24.5cm x D: 23.5cm W: 16.5cm
Historical Significance:
Mary Maddox was an early orthoptist and credited with being the first orthoptist in the 1920s. She was the daugter of Ernest Maddox (1863-1933) whose books published in the lster years of the 19th C elucidated binocular function. References: Textbook of Orthoptics, 1955, H W Gibson, p128 Cat No 1367, Lyle & Jackson's Practical Orthoptics in the Treatment of Squint, Fourth Edition, 1953, T Keith Lyle & Mariane Walker, p30 Cat No 1402.
How Acquired:
Donated by Mr William Johns, Melbourne optometrist first half of the 20th C and a founding member of the College
Location:
Archive room. West wall. Unit 5 Overhead display