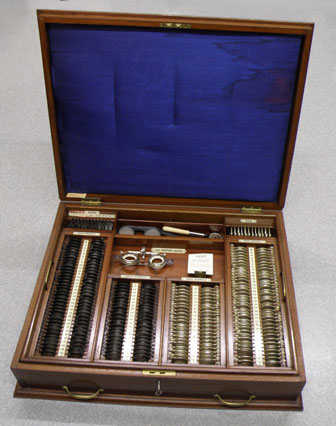 'The Empire Senior' trial lens case and accessories
Sub-Category:
Trial lens case
Year Of Publication/Manufacture:
c 1930
Time Period:
1900 to 1939
Description Of Item:
'Empire Senior' trial lens case with accessories, in a polished timber case 565 mm W x 450 mm D, with lock and key, lift out lens tray and a drawer underneath for accessories. Full set of lenses ( ?20 DSph ?7 D cyl). The accessories in the lens tray include (1) trial frame with adjustable pd, adjustable height nose rest, cogged wheel axis rotation, curl sides, (2) non-luminous retinoscope with ivory handle, (3) three lens flippers (+0.25, -0.25 and -0.50D), (4) near test card with clip for sliding on a near point rule. In the accessories drawer (1) open cell trial frame, (2) oiled wood Raphael's orthops rule for measuring PD, nose width and bridge height, (3) pointed nose pliers, (4) near reading card (stained) headed Crookes Glass - its origin and nature, (5) set of 14 tinted glasses, rectangular 115 x 37 mm wrapped in tissue.
Historical Significance:
James Roche was one of the 233 optometrists first registered in Victoria in 1936 after the Opticians Registration Act was enacted in December 1935. The optometrists first registered are listed in the Victorian Government Gazette of January 27 1937 (see Cat no 888) but his certificate is dated August 1936 (see cat No 1496).Roche is recorded in Registration Board papers (See Cat No 889) as having a Fellowship of the Victorian Optical Association (FVOA) and as the principal of an optometry practice at 18 Melby Av St Kilda and/or Elizabeth House Elizabeth Street Melbourne for 8 years previously. He is recorded as being in part time practice. His daughter said he never practised, advice that is supported by the mint condition of items of his equipment donated to the museum. Roche's main business may have been as a pharmacist or a jeweller. The near reading card refers to Crookes glasses and the 14 rectangular tinted glasses in this collection of items may be samples of Crookes tinted glasses. Crookes tinted glasses were commonly prescribed by optometrists in the 20thC. They were made by Chance Brothers glassworks in the UK and carried the trade name of Crookes glasses because Sir William Crookes FRS OM (1832-1919) advised the company on tinted glasses, especially glasses to block UV radiation.
How Acquired:
Donated by Ms Thea Roche, daughter of Melbourne optometrist James John Roche
Condition:
Excellent except one trial lens (+0.50D) missing
Location:
Archive office. East wall shelves unit 2