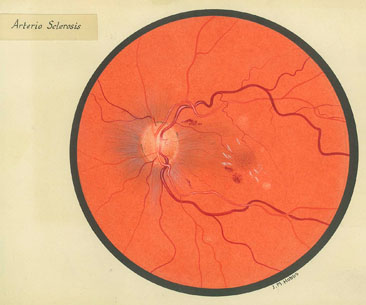 Hand painted ocular fundus pictures
Sub-Category:
Illustrations, prints, etchings
Time Period:
1900 to 1939
Description Of Item:
Two fundus illustrations hand painted on card, one labelled arterio sclerosis and signed J. M. Hobbs and the other of an old localised choroiditis
Historical Significance:
Before the advent of fundus photography abnormal features of the fundus were drawn on the record card by the practitioner and eye hospitals had artists who drew accurate and meticulous records of abnormal conditions. The most well known ophthalmic artist was Terry Tarrant of London whose work appears in many ophthalmic text books. Ophthalmic drawings can still often better represent abnormal conditions and surgical procedures than photographs because of the artists ability to 'clean up' the image.
How Acquired:
Record of VCO Found in the VCO Clinic by Dr Alan Johnston
Location:
Archive office. Pamphlet and ephemera filing cabinet. Drawer 4