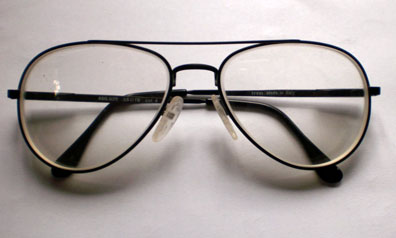 Trevi 890.020 spectacle frame
Category:
Spectacles and lenses
Sub-Category:
Spectacles (with lenses)
Year Of Publication/Manufacture:
c 1980
Time Period:
1940 to 1999
Place Of Publication/Manufacture:
Italy
Publisher/Manufacturer:
Trevi
Description Of Item:
Black metal aviator style spectacle frame, pad bridge, spring sides, left side designated 'Trevi made in Italy', right side designated '890.020 col 4', glazed with aprox. R andLl -4.50 D CR39 lenses, 135 x 50 mm.
Historical Significance:
The aviator style was first popularised in mens' sunglasses but became fashionable in a wide range of eyewear especially in the 1970s. Aviator sunglasses feature oversize teardrop-shaped lenses and a thin metal frame. The design was introduced in 1936 by the Ray-Ban company for issue to U.S. military aviators. Their popularity with pilots, military and law enforcement personnel in the United States has never wavered. The Aviator became a well-known style of sunglasses when General Douglas MacArthur landed on the beach in the Philippines in World War II. Photographers snapped several pictures of him wearing them for newspapers, and Americans instantly fell in love with them. Tom Cruise made the Ray-Ban Aviator famous again in the 1986 movie "Top Gun".
How Acquired:
Donated by ACO Clinic
Location:
Archive Office. Spectacles cabinet Drawer 14