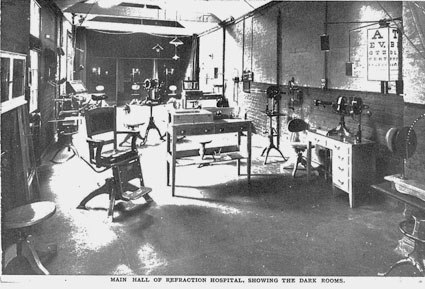 Main hall of the refraction hospital, showing the dark rooms
Sub-Category:
Photograph Buildings
Year Of Publication/Manufacture:
1923
Time Period:
1900 to 1939
Place Of Publication/Manufacture:
London
Publisher/Manufacturer:
London Refraction Hospital
Description Of Item:
Post card bearing a photograph of the main hall of the London refraction hospital, showing the dark rooms. The title at the bottom of the card reads ' Main hall of the refraction hospital, showing the dark rooms'. On reverse is printed in green ink ' POST CARD This space may be used for printed matter for inland use only' and 'The address only to be written here' with a rectangle indicating where the postage stamp should be affixed and handwritten words 'London 1923'. Accompanying the card is an envelope carrying the return address of EJH MacFarlane and Son.
Historical Significance:
This is probably a picture of the orthoptics room at the London Refraction Hospital. The London Refraction Hospital was founded in 1922 and became the Institute of Optometry in 1988. It provides optometry services to the public, especially the disadvantaged. It also provides clinical experience for optometry students. It is located in South London (Southwark) near the Elephant and Castle underground. It specialised in orthoptics.The donor, Ken MacFarlane, was a Melbourne optometrist whose practice was originally his father's, Ernest, at 13 Gertude Street Fitzroy. Ernest had purchased the practice in about 1905 from a Mr Pugh.See Cat No109 for the FIO certificate of Ernest MacFarlane dated 1930.This card was probably purchased by Ernest, when he was in London to study.
How Acquired:
Donated by Mr Ken Macfarlane
Location:
Archive office. South wall. Cube 5 Album 3