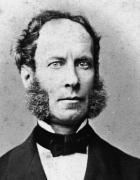 Schrift-scalen des Prof. Jaeger, Jun.
Sub-Category:
Significant book (Aitken collection)
Author:
Eduard Jaeger Ritter von Jaxtthal
Year Of Publication/Manufacture:
1857
Place Of Publication/Manufacture:
Wien (Vienna, Austria)
Publisher/Manufacturer:
Aus der Kaiserlich-Koniglichen Hof und Staats druckerel
Description Of Item:
This book has printed paper wrappers, 245 x 150 mm and contains Jaeger near point test charts from J1 to J 20 in German, French, English, Italian, Dutch, Russian, Greek, Hebrew etc. This copy is stamped with the stamp for the Societe des Sciences Medicales et Naturelles de Bruxelles. There is a handwritten inscription on the front cover which reads"? la Societe des Sciences Medicales et Naturelles de Bruxelles" and appears to be signed "Jaeger".
Historical Significance:
Eduard Jaeger (1818-1884) University Professor of ophthalmology in Vienna was one of the first (along with Snellen) to try to provide some standardisation of near point test charts. Although his charts were criticised for simply being just printed text in set sizes, his charts and his notation ("reads J1 at 300 mm') were widely used. They were eventually superseded by the British Faculty of Ophthalmology near test charts using Times type and the N notation (Law FW Br J Ophth 36, 689, 1952). The date Jaeger devised the near charts is given as 1867 by Duke Elder (Text Book of Ophthalmology) and 1854 by Borish. This book is dated 1857 which suggests Borish is correct and that this book was produced shortly after Jaeger devised his charts.
How Acquired:
Donated by Michael Aitken, honorary archivist
Condition:
Fair. Rebacked with new paper spine.
Location:
Archive office. Pamphlet and ephemera filing cabinet. Drawer 1