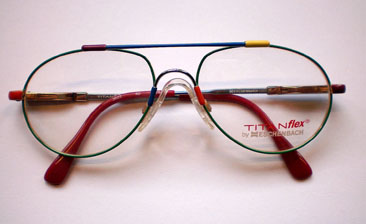 Eschenbach Titanflex children's spectacle frame,
Category:
Spectacles and lenses
Sub-Category:
Spectacle frame
Time Period:
1940 to 1999
Place Of Publication/Manufacture:
Germany
Publisher/Manufacturer:
Eschenbach
Description Of Item:
Multicoloured titanium childrens' spectacle frame, aviator style shape, doubled metal bridge with separate flexible plastic saddle bridge, spring sides, 122 x 42 mm, right side marked 'TITAN flex', left side marked 3622 40 125 Eschenbach
Historical Significance:
Josef Eschenbach registered his business in Nuremberg as a wholesaler of optical products and precision drawing instruments in 1914. Rudolph Eschenbach, Josef's son, assumed all business responsibilities, and took direction of the company in 1923 for the next 4 decades. Initially it made binoculars and optical instruments but expanded into spectacle lenses, magnifiers, low vision aids and spectacle frames in the second half of the 20thC. It introduced the titanflex range of frames in 1988.
How Acquired:
Donated by ACO Clinic
Location:
Archive Office. Spectacles cabinet Drawer 15