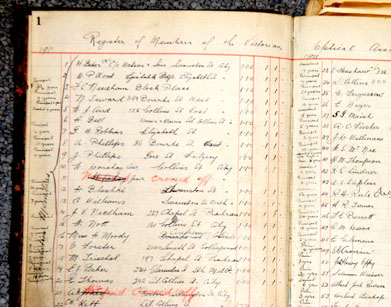 Register of the members of the Victorian Optical Association
Sub-Category:
Optometry Association papers, reports
Association:
Victorian Optical Association
Year Of Publication/Manufacture:
1911 to 1921
Time Period:
1900 to 1939
Place Of Publication/Manufacture:
Melbourne
Description Of Item:
Folio size ledger dark green cloth boards, with suede leather spine and corners, marbled paper paste down inside cover and fly leaves. Spine labelled 'ledger' containing handwritten lists of members of the Victorian Optical Association from its foundation year of 1911 to 1921 interspersed with accounts for fees for classes and donations to Red Cross and other appeals. Tipped in are copies of undated typewritten membership lists and the end of year financial statement for 1921 and other papers.
Historical Significance:
The Victorian Optical Association was founded in 1911 and is the precursor of the Optometrists Association Victorian Division. It offered courses of training in optometry and those who passed the examinations were admitted to Fellowship of the Association. This was established in 1912 and lasted until 1940 when the Victorian College of Optometry was founded. The membership for 1911, the foundation year, shows H Baker as member No 1 and he was the first President of the Association. Howard Bell, a leader in optometric education, is member No 6. CW Kett, a founding member of the Australian College of Optometry, is member No 22. Miss H Moody is the only woman member (No 16). There were 64 members listed of whom the first 25 are bracketed and identified as foundation members including Baker, Kett and Moody. Most are described as principals of an optometry firm and their time as a principal is noted. One, H Blaski of Swanston Street, is listed as having been a principal for 30 years, from 1881.
Location:
Archive office. East wall shelves unit 3