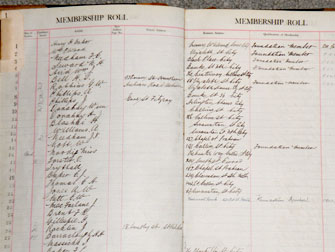 Membership roll of the Victorian Optical Association
Sub-Category:
Optometry Association papers, reports
Association:
Victorian Optical Association
Year Of Publication/Manufacture:
1911 to 1930
Time Period:
1900 to 1939
Place Of Publication/Manufacture:
Melbourne
Description Of Item:
Folio size ledger dark grey cloth boards, with suede leather spine and corners, marbled paper paste down inside cover and fly leaves. An alphabetical section of names of members is followed by Section A, which is a roll of members of the VOA in order of date of becoming a member, Section B which is a record of subscriptions paid from 1911/1912 to 1929/1930 and Section C which is a new address record, but is unused. Section D has notes about resignations, removals etc of individual members, with the last record dated 1923.
Historical Significance:
The Victorian Optical Association was founded in 1911 and is the precursor of the Optometrists Association Victorian Division. The member Section A of the roll records 256 members, the first in 1911 and the last being recorded on 7 December 1931.
Location:
Archive office. East wall shelves unit 3