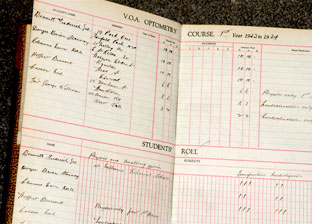 Student lecture roll and examination result register 1918-1933. VOA Optometry Course.
Sub-Category:
Optometry Association papers, reports
Association:
Victorian Optical Association
Year Of Publication/Manufacture:
1918 to 1933
Time Period:
1900 to 1939
Place Of Publication/Manufacture:
Melbourne
Description Of Item:
Folio size ledger dark grey cloth boards, with suede leather spine and corners, marbled paper paste down inside cover and fly leaves. Section A is a student lecture roll for the years 1930 to 1932, Section C is a record of enrollments, fees paid and record of examination results for the years 1918 to 1933. In Section C there is a record of the 6 students whose fees were paid by 'Repat'
Historical Significance:
The Victorian Optical Association was founded in 1911 and is the precursor of the Optometrists Association Victorian Division. It offered courses of training in optometry and those who passed the examinations were admitted to Fellowship of the Association. This was established in 1912 and lasted until 1940 when the Australian College of Optometry was founded. See cat No 1642 for the roll for 1933 to 1941.
Location:
Archive office. East wall shelves unit 3