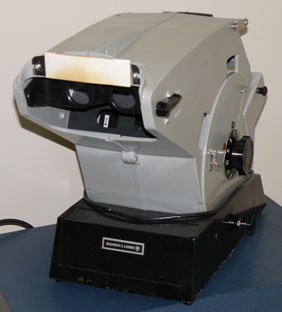 Occupational vision tester
Sub-Category:
Vision screener
Corporation:
Bausch and Lomb Incorporated
Year Of Publication/Manufacture:
c 1952
Time Period:
1940 to 1999
Place Of Publication/Manufacture:
Rochester, NY, USA
Publisher/Manufacturer:
Bausch and Lomb Incorporated
Description Of Item:
Light grey moulded plastic instrument enclosing a rotary drum on which are mounted various tests of vision including tests of visual acuity, heterophoria and stereopsis that are viewed through two objective lenses. An internal light source illuminates the test targets. The drum is rotated manually using a knob on the left side. The instrument has a blue leatherette carry case 520 x 265 x 390 mm. Accessories include: a dust cover, a pack of score cards and a wallet of transparent score templates identified as being various 'Purdue University Standards' for various occupations and a demonstration of steropsis. Makers plate on the tester's side of the instrument gives catalogue no. 71-22-41 and the serial no. 4527 Z and identifies the instrument as 'Bausch and Lomb Vision Tester'. Label for the original owner Coles and Garrard 376 Bourke Street Melbourne on the case. The score templates are dated 1952.
Historical Significance:
Vision screening in industry to ensure work place safety and work efficiency emerged in the 1940s and gained impetus through the perceived need to test the vision of servicemen in World War 2 (1939 - 1945). Bausch and Lomb produced its orthorater in the 1940s; the American Optical Company produced its Sight Screener and many other optical companies followed suit. This vision screening instrument is a successor to the Bausch and Lomb orthorater. Books on occupational optometry and ophthamology were written in the 1950s (eg Hofstetter's Industrial Optometry 1956; Kuhn's Industrial Ophthalmology 1944, 1950 See Cat Nos 700, 1404). Coles and Garrard, the original owner of the instrument, was a large Melbourne optometry firm that offered vision screening and heat-toughened glasses to manufacturing industry from the 1950s and used this instrument for that purpose.
How Acquired:
Donated by OPSM which held the instrument since acquisition of Coles & Garrards Pty Ltd
Date Acquired:
23.06.2003
Location:
Archive office. East wall shelves unit 1