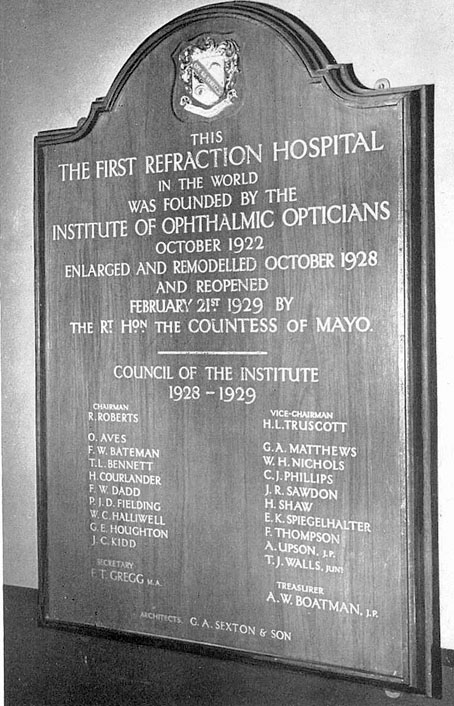 The London Refraction Hospital. Its history and work 1922 - 1943
Sub-Category:
Hewett collection
Institution:
London Refraction Hospital (multiple named authors)
Year Of Publication/Manufacture:
Undated 1943 ?
Time Period:
1940 to 1999
Place Of Publication/Manufacture:
London
Publisher/Manufacturer:
The Borough Press 1/2 Scovell Road London SE1
Description Of Item:
Booklet, printed card wrappers, 48 pages, numerous black and white photographs in text of staff and consulting rooms. Preface by Sir William Champness (1873-1956) Knight Lieutenant of the City of London and past master and former Clerk of the The Worshipful Company of Spectacle Makers.Articles by James Forrest MB ChB, Ernest Aves FBOA, DWA Mitchell MPS, FBOA FSMC, Walter Green FSMC, HW Gibson and others.
Historical Significance:
The London Refraction Hospital (LRH) was formed in October 1922, the first institute of its kind in the world. (See picture). It was founded to provide better clinical training of optometrists. Formal qualification of optometrists in England had begun only in 1898 with examinations run by the British Optical Association and the Worshipful Company of Spectacle Makers, but these organizations did not provide a formal optometry course or clinical training. Students had to prepare themselves for the examinations with the help of tutors or their employer. The initiating body for the foundation of the LRH was the Institute of Ophthalmic Opticians, but the real founders were Owen Aves, Dr James Forrest and Anthony Preston. It was enlarged and re-modelled in 1928 and re-opened in 1929 by the Rt. Hon. the Countess of Mayo. In 1938 the LRH was reconstituted by order of the Charity Commission after it ran into financial difficulties and was rescued by the British Optical Association. The Institute was a leader in orthoptics and an early adopter of contact lenses (see pics page 34 to 36). Dr. Forrest, a surgeon oculist and a founder of the LRH, was involved because he was already teaching optometry students about ocular diseases in 1906 and by 1911 he had published a text book for optometrists (see book by Forrest Recognition of Ocular Disease 1911 and 1926 Cat Nos 88, 183, 258). In 1988 the London Refraction Hospital changed its name to the Institute of Optometry, when it expanded to include postgraduate training, education and research.
How Acquired:
Purchased by Kett Museum (Abebooks $35)
Date Acquired:
October 2010
Location:
Archive office. Pamphlet and ephemera filing cabinet. Drawer 4