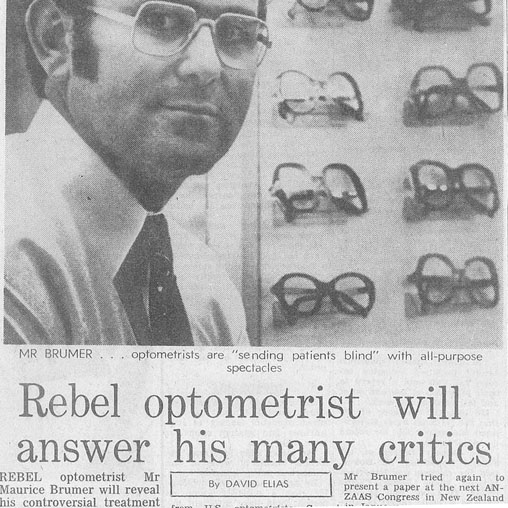 Collection of newspaper clippings about Australian optometry and optometrists 1976 to 1985
Sub-Category:
Newspaper, newspaper clipping
Year Of Publication/Manufacture:
1976 to 1985
Time Period:
1940 to 1999
Description Of Item:
Foolscap size black vinyl covered two-ring binder with newspaper clippings about Australian optometry and optometrists 1978 to 1985 pasted on lined foolscap sheets. Clippings are from Insight, The Age, Australian Optometry, The Optician and The Sun. Includes several letters including: a letter undated signed by Maurice Brumer seeking support for his bid to be elected President of the AOA Vic Div, a letter dated July 30 1976 from Geoff Morris about that election, and a letter from Bruce Besley President of the VCO to College members dated August 2 1983 explaining how advertising of the College's regional clinics was inadvertent.
Historical Significance:
These clippings record interesting events in optometry in the period 1975 to 1985. The events include Melbourne optometrist Maurice Brumer's protest at the Melbourne 48th ANZAAS meeting in 1978 at the rejection of his paper on the treatment of myopia with plus lenses; booming student numbers in optometry courses, especially in NSW; the death of leading Melbourne optometrist Bertram Nathan; the death of noted ophthalmologist, Sir Stewart Duke Elder; appointment of leading researchers in the National Vision Research Institute (NVRI), notably Donald Mitchell, Jack Pettigrew and Austin Hughes; the controversial ideas of Melbourne optometrist Trevor Sandy on the treatment of migraine; the generous donations of Don and Joyce Schultz to the NVRI; the resignation of optometrist Damien Smith as Director of the AOA and his appoinment to the Board of the Royal Victorian Eye and Ear Hospital; Ken Bowman appointed to head the optometry course at QIT; the award of the American Academy's Garland award to Nathan Efron and David Atichison; the invalid election of councillors of the VCO; the clash between the VCO and the OAA on the VCO's clinics in community health centres; the controversy over the VCO advertising its community health clinics, the VCO constitution change to avoid taxation; historical articles including one on OPSM; the formation the Victorian scheme for subsidy of spectacles; awards, recognition, promotion and retirement of leading figures including Brien Holden, Brian Brown, Robert Jacobs, Ross Harris, Barry Collin, Barry Cole, John Nathan and the first PhD to an Australian woman optometrist, Patricia Kiely.
How Acquired:
Record of VCO
Location:
Archive office. East wall shelves unit 3