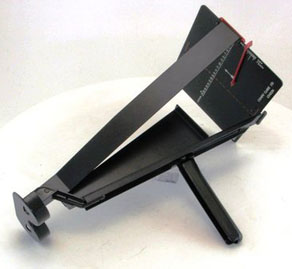 Sub-Category:
Tests of binocular vision
Designer/inventor:
MADDOX Ernest E
Year Of Publication/Manufacture:
c 1960
Time Period:
1940 to 1999
Place Of Publication/Manufacture:
London
Publisher/Manufacturer:
Clement Clark Ltd
Description Of Item:
The Maddox Wing test is a test of near heterophoria. It uses vertical and horizontal prism dioptre tangent scales viewed from a fixed distance of 29 cm. The scales are viewed with one eye while the other eye see a red horizontal arrow (for vertical heteophoria and which can be rotated to measure cyclophoria) and a white arrow for horizontal heterophoria. The two separate views of the scale and the arrows by the right and left eyes is achieved by means of two black metal dividers. The test is constructed of black metal with a handle to for the patient and has lensless viewing apertures to ensure the patient is positioned correctly. This example has a plastic handle and is marked 'Clement Clark Ltd London' and 'Maddox wing Test'. (See also Cat No 2569)
Historical Significance:
This test was described by Ernest Maddox in 1913. See Maddox EE: The wing test for heterophoria. Trans Ophthal Soc UK 1913; 33:22-227. Maddox was an English ophthalmologist (1863 - 1933) who importantly elucidated the nature of binocular fusion and the components of convergence. He invented the Maddox rod and the Maddox wing test, the cheiroscope and the V test for astigmatism. He was ophthalmic surgeon at the Royal Victoria Hospital, Bournemouth, and formerly Assistant Ophthalmic Surgeon in the Royal Infirmary Edinburgh and Syme Surgical Fellow at Edinburgh University. He wrote several important books between 1898 and 1915 (See Cat Nos 107, 206, 504).
How Acquired:
Donated by ACO Optometry Clinic
Location:
Archive room. West wall. Unit 4 Drawer 5