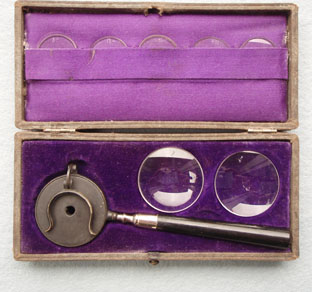 Cased Liebreich Ophthalmoscope
Sub-Category:
Ophthalmoscope
Designer/inventor:
Richard Liebreich
Year Of Publication/Manufacture:
c1860
Place Of Publication/Manufacture:
Germany
Description Of Item:
Cased Liebreich ophthalmoscope with 5 small Coccius glass lenses and 2 glass condensing lenses. Non-illuminated ophthalmoscope has concave mirror in round head with central sight hole. Hinged Coccius clip attached to hold lenses. Black metal head, silver coloured mount and black turned timber handle. Case has black leather outer cover and purple velvet and satin linings. Case hinged with snap closure. On front of case: 'LIEBREICH'S OPHTHALMOSCOPE'. 4 of 5 Coccius lenses engraved with powers:'8-', '12-', '-01', '+01'. Ophthalmoscope: 12.7cm long. Case:13.9cm L x 6.1cm D x 2.2cm H
Historical Significance:
The first ophthalmoscopes had no lenses to correct errors of refraction in the patient and/or the observer. A number of early ophthalmoscopes, such as those of Adolf Coccius (1853), Wilhelm von Zehender (1854) and Richard Liebreich (1855), used separate individual lenses to correct an out of focus ophthalmoscopic image. These were inconvenient and took time to change. Egbert Rekoss in 1852 used two rotatable discs of lenses which easily moved the correcting lens into position. Rekoss discs are still used in direct ophthalmoscopes today.
How Acquired:
Donated by Pamela Sutton
Date Acquired:
17.11.2010
Condition:
Good, (case exterior only fair)
Location:
Archive Office. Cabinet One Drawer 8