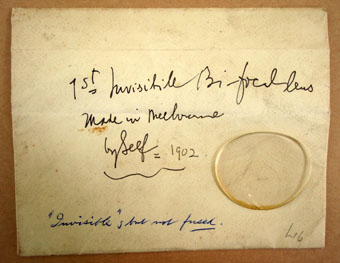 Category:
Spectacles and lenses
Sub-Category:
Spectacle lenses
Year Of Publication/Manufacture:
1902
Time Period:
1900 to 1939
Place Of Publication/Manufacture:
Melbourne
Publisher/Manufacturer:
E J H MacFarlane
Description Of Item:
A single uncut flat glass lens fitted with a round near segment enclosed in two joined plano convex lenses. It is accompanied by an envelope with the business address E J H MacFarlane Optician 13 Gertude St Fitzroy Melbourne inscribed on the front with the words '1st invisible bifocal lens made in Melbourne by self - 1902. 'Invisible' but not fused'. Also with the item is a page torn from a journal with an article on the optics of the invisible bifocal written in response to a query from a subscriber to the journal. Pencil note at top 'Optical Journal abt 1902'
Historical Significance:
Benjamin Franklin is generally credited with the invention of bifocals in 1784. These were two separate half lenses fitted together in the spectacle frame. They remained in use for over 100 years. Cemented bifocals were invented in 1884 and fused bifocals were invented in 1890. Fused bifocals had a lens segment of higher refractive index inserted in a concavity ground in the main lens and fused in place. One piece bifocals were invented in 1906. These were a single lens but with two different surface curvatures so there was an edge between the distance and near part of the lens. This lens made by Melbourne optometrist Ernest MacFarlane in 1902 is different. Its round near segment of high refractive index glass is enclosed within two plano convex lenses cemented (fused?) together The optics of the lens are explained in the extract from the Optical Journal that accompanies this item. Ernest MacFarlane had a long-established optometry practice at 13 Gertrude Street, Fitzroy, Victoria. He had purchased the practice in about 1905 from a Mr Pugh. It is possible that he made this lens as an exercise during his training as an optical technician. He was later joined in his practice by his son, Ken MacFarlane. The Museum holds his Doctor of Optics diploma Ernest MacFarlane obtained in 1910 from the Philadelphia Optical College. Cat No 114.
How Acquired:
Donated by Ken MacFarlane, optometrist son of EJH MacFarlane
Condition:
Good. One chip on bevel edge
Location:
Archive office. East wall shelves unit 3. Drawer 3