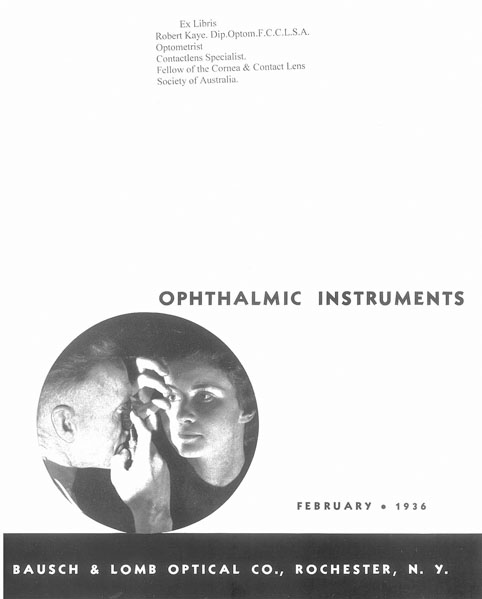 Catalog. Ophthalmic Instruments
Sub-Category:
Product catalogue
Corporation:
Bausch and Lomb Optical Company
Year Of Publication/Manufacture:
1936
Time Period:
1900 to 1939
Place Of Publication/Manufacture:
Rochester NY USA
Publisher/Manufacturer:
Bausch and Lomb
Description Of Item:
Printed card covers, 64 pages, illustrated with black and white photographs throughout. Rubber stamp for Optical Products Pty ltd on front cover. Ex Libris sticker of former owner Robert Kaye on title page.
Historical Significance:
This is a useful source of information about ophthalmic instruments in the 1930s. The catalogue includes ophthalmic chairs and stands, the Greens refractor. phorometers, visual acuity projectors and cabinets, visual field equipment, slit lamps and hand diagnostic instruments. Included in the catalogue is the Gullstand table ophthalmoscope, a binocular ophthalmoscope, the May and Morton ophthalmoscopes, a table slit lamp with separate microscope and light sources and a stereo camera. Bausch & Lomb was a very large American optical company based in Rochester, New York, that manufactured opthalmic lenses and instruments for over 100 years. It was founded in 1853 by two German immigrants to the USA, John Jacob Bausch and Henry Lomb. It also became very widely known because of its famous Ray-Ban brand of sunglasses, which it sold in 1999 to the Italian Luxottica Group. Today, it no longer also produces spectacle lenses and ophthalmic instruments but has confined its business to contact lenses, implants and contact lens pharmacuetical products.
How Acquired:
Donated by Robert Kaye, Sydney Optometrist
Location:
Archive office. Pamphlet and ephemera filing cabinet. Drawer 4