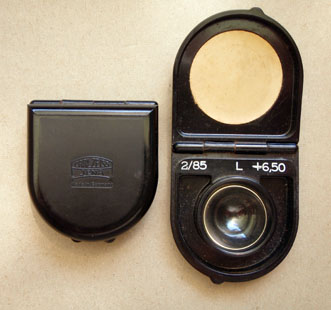 Pair of cased scleral (haptic) contact lenses
Category:
Spectacles and lenses
Sub-Category:
Contact lenses and accessories
Year Of Publication/Manufacture:
c 1939
Time Period:
1900 to 1939
Place Of Publication/Manufacture:
Jena Germany
Publisher/Manufacturer:
Carl Zeiss
Description Of Item:
Pair of glass scleral (haptic) contact lenses each in D-shaped black plastic hinged cases. 45 x 40 mm. Right case imprinted: 225/85 R +7,50Left Case imprinted: 25/8 L +6,60 DCase cover impressed with manfacturers trade mark: Carl Zeiss Jena Made in Germany.Fibre disc on inside of lid to secure the lenses. Lens is missing from the right eye box. Included is a letter from the donor, Tibor Weisz, dated 1 June 1973 stating the lenses were fitted in Melbourne in approximately 1939. (Letter in Ephemera Drawer 4).
Historical Significance:
The investigations of Leonardo Da Vinci (1508), Rene Descartes (1638) and Thomas Young (1801) into the optical power of the cornea and accommodation laid the foundations for contact lenses but none envisaged the concept for optical correction of the eye. John Herschel, in the Encyclopedia Metropolitana, (1845) in a footnote posed two ideas for visual correction: the first "a spherical capsule of glass filled with animal jelly", and "a mould of the cornea" which could be impressed on "some sort of transparent medium". Herschel never tested these ideas, but they were later advanced by several inventors including Hungarian Dr. Dallos (1929), who perfected a method of making moulds from living eyes. Before that, in the mid 1980s, Muller, Fick and Girard fabricated glass scleral (haptic) contact lenses made from blown glass. Fick filled the empty space between the cornea and the glass lens with a dextrose solution. He published his work, "Contactbrille", in Archiv fur Augenheilkunde in March 1888. These early blown glass lenses were used for correction keratoconus and other severe medical eye conditions rather than routine correction of refractive errors. In 1912 Zeiss produced a trial fitting set of glass scleral lenses. Glass-blown scleral lenses remained the only form of contact lens until the 1930s when polymethyl methacrylate (PMMA or Perspex/Plexiglas) was developed, allowing plastic scleral lenses to be manufactured for the first time. In 1936, optometrist William Feinbloom introduced plastic lenses. Glass scleral contact lenses were fitted by Melbourne optometrist, Ernst Goetz, in the 1930s. He was probably the first person to fit contact lenses in Australia. He was trained as an optiker (optican) in Jena and worked for a time with Carl Zeiss. (see Goetz' profile under the tab 'People who made history' and also photos and documents relating to him in the Kett Museum). See also Cat No 1553 for another example of the same kind of lenses.
How Acquired:
Donated by Tibor Weisz, Melbourne optometrist
Condition:
Good (except one lens missing)
Location:
Archive room. West wall. Unit 6 Drawer 2