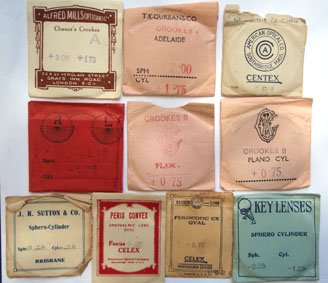 Various plano-base white and tinted spectacle lenses in individual branded envelopes
Category:
Spectacles and lenses
Sub-Category:
Spectacle lenses
Year Of Publication/Manufacture:
Early 20thC
Time Period:
1900 to 1939
Place Of Publication/Manufacture:
Various
Description Of Item:
Collection of 10 plano base lenses, uncut, some tinted, all contained in original branded packets aprox 50 x 50 mm. Manufacturers include: American Optical (USA), Alfred Mills Opticians (London), Bausch and Lomb (USA), JR Sutton and Co (Brisbane), Key Lenses, TK Qurban and Co (Adelaide). The lenses are in a postal envelope bearing the address of EJH MacFarlane and Son Optometrists 13 Gertrude St Fitzroy.
Historical Significance:
The donor Ken MacFarlane was a Melbourne optometrist whose practice was originally his father's, Ernest, at 13 Gertude Street Fitzroy. Ernest had purchased the practice in about 1905 from a Mr Pugh.See Cat No109 for the FIO certificate of Ernest MacFarlane dated 1930. One of the lenses in the package was manufactured by TK Qurban, who was the brother of I H Qurban an Adelaide optometrist who was active in the formation of the Australian Optometrical Association and its president in 1929. IH Qurban gets numerous references in Charles Wright's book on the history of Australian Optometry and is described by Wright on page 32 as 'extraordinarlily persistent, almost fanatical.'
How Acquired:
Donated by Ken MacFarlane, mid 20th C Melbourne optometrist
Location:
Archive office. East wall shelves unit 3. Drawer 4