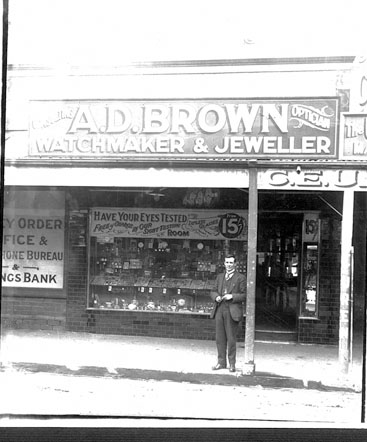 Optometry practice of AD Brown, Consulting optician, watchmaker and jeweller
Sub-Category:
Photograph Buildings
Year Of Publication/Manufacture:
1922
Time Period:
1900 to 1939
Description Of Item:
Sepia photograph image 116 x 168 mm mounted on stiff brown card depicting the practice of AD Brown, Melbourne optometrist 1917 to 1936. On the back is the date Sept 1922 and a pencil note 'AD Brown ophthalmic optician was located at 860 Sydney Road Brunswick in 1917' (see his advertisement in Cat No 1353)
Historical Significance:
Augustus David Brown was an applicant for registration in 1936 (See Cat No 889) after the Victorian Registration Act was passed in 1935 but was refused registration under Section 8 (practice prior to the Registration Act). He is noted as being at 860 Sydney Road 1917 to 1925, Narranderc NSW 1926-1930 and in Moreland 1932 to 1936.
Location:
Archive office. South wall. Cube 5 Album 3