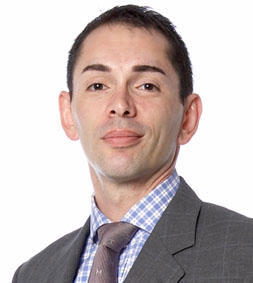 Professor Harrison Weisinger, Foundation professor of optometry, Deakin University, Geelong
Sub-Category:
Photograph People and events
Description Of Item:
Digital colour image, jpeg 480 x 512 72 dpi 17 cm x 18 cm of Professor Harrison Weisinger, foundation professor of optometry at Deakin University
Historical Significance:
Professor Weisinger qualified in optometry at the University of Melbourne in 1992 and continued his studies at Melbourne to earn a MSc degree in Optometry in 1995 and a PhD degree in 1999. He subsequently studied medicine, also at Melbourne University, obtaining his MB BS in 2005. While studying medicine he concurrently pursued demanding research projects at the Howard Florey Institute of Experimental Physiology and Medicine (2001-2003) and the University of Melbourne Department of Optometry and Vision Sciences (2003 -2005). This did not seem to impede his medical studies: he was on the Deans' Honour Roll in one of his medical years. His research was supported by NHMRC grants, some awarded to him personally and others jointly with collaborators. His research initially focused on retinal development, visual electrophysiology and the effects of peri-natal dietary manipulation. Later he investigated dietary and pharmacological manipulation of central mechanisms regulating blood pressure and body weight. His research has yielded some 34 research publications in international journals, 13 clinical papers and 10 chapters in books. From 2007 to 2010 he was Director of Professional Services with Specsavers Pty Ltd. He was appointed Foundation professor of optometry, Deakin University, Geelong in 2011.
How Acquired:
Donated by Professor Harrison Weisinger
Location:
Archive computer iPhoto