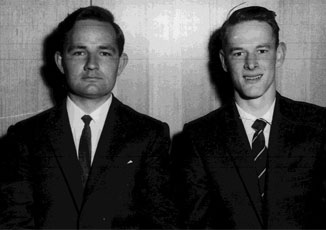 BAppSc optometry students at the University of Melbourne 1961 to 1980
Sub-Category:
Photo Album, print and electronic
Institution:
Victorian College of Optometry
Year Of Publication/Manufacture:
1961-80
Time Period:
1940 to 1999
Place Of Publication/Manufacture:
Melbourne, Australia
Description Of Item:
Photo album, glazed red cover with gold diamond and fleur de lis motif, metal spiral binder, containing photographs of optometry students of the University of Melbourne from 1961 to 1980.
Historical Significance:
Photographs include Gavin Bridgman from New Zealand who was the first optometrist to graduate from the new University of Melbourne degree course in optometry and among the other students those who subsequently pursued distinguished careers including Anthony Adams, Ian Bailey, Donald Mitchell, Alan Johnston, Brian Brown, Ross Harris, Robert Jacobs, Ken Bowman, Brien Holden, Rodney Watkins, Nathan Efron and Leo Carney. The picture is from the album. It was taken in 1961 and is of the first graduate, Gavin Bridgman, with New Zealand optometrist Lex Grocott (left) who trained in New Zealand but studied fourth year with Gavin Bridgman to further his own training. See Catalogue item No 145 for photo album of graduates from 1979 to 2000.
How Acquired:
Record of VCO
Location:
Archive office. South wall. Cube 6