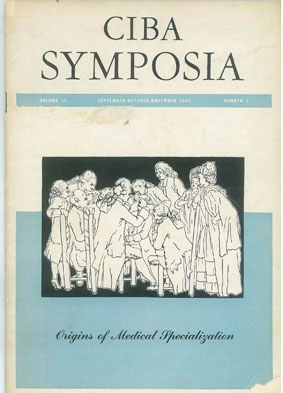 Origins of medical specialization
Sub-Category:
Hewett collection
Year Of Publication/Manufacture:
1949
Time Period:
1940 to 1999
Place Of Publication/Manufacture:
New Jersey USA
Publisher/Manufacturer:
CIBA Pharmacuetical Products
Description Of Item:
Issue Number 2 of Volume 11 of the Ciba Symposium Sept/Oct/Nov 1949, pp 1126-1156, printed paper wrappers. The issue is devoted entirely to three articles by George Rosen, 'Medical thought and the rise of specialism', ' Social factors in the development of medical specialism', and 'The public relations of medical specialism' with a selected bibliography of 14 references, numerous black and white illustrations.
Historical Significance:
This set of papers includes sections on the origins and historical development of ophthalmology in several of the articles (eg 1130-1132, 1145-1151). George Rosen MD MA PhD (1910 - 1977) was born and schooled in Brooklyn NY but studied medicine in Berlin at the Kaiser Wilhelm University because as a jew he was excluded from medical school in the USA. He graduated in 1935 and returned to New York in that year to escape the rise of Nazism. He did his PhD in Sociology at Columbia University, 1944, and his MA in Public Health, also at Columbia University, 1947. His career consisted of two specialties: public health and preventive medicine and the history of medicine. Wearing both hats, he obtained public recognition in both fields, becoming professor of Public Health Education at Columbia University, and at Yale University, professor of the History of Medicine and professor of Epidemiology and Public Health. In 1946, he was founder, with John Fulton, of The Journal of The History of Medicine and Allied Sciences; throughout the remainder of his life he served as editor or as an editorial board member until his death in 1977. Rosen's publications are numerous: more than 200 articles and nine books and translations of numerous medical--historical texts and medical texts.
How Acquired:
Purchased by Kett Museum (Amazon Books $35)
Condition:
Good, except for small defects to front cover
Location:
Archive office. Pamphlet and ephemera filing cabinet. Drawer 4