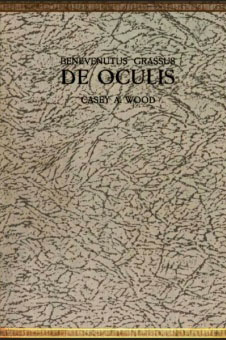 De oculus eorumque egritudinibus et curis (Translated with notes and illustrations from the first printed edition Ferrar AD 1474)
Sub-Category:
Significant book (Aitken collection)
Author:
Benevenutus GRASSUS of Jerusalem (Translated by Casey Wood)
Year Of Publication/Manufacture:
1929
Edition:
English translation ediiton
Time Period:
1900 to 1939
Place Of Publication/Manufacture:
Stanford University California
Publisher/Manufacturer:
Stanford University Press
Description Of Item:
Original decorated boards, 101 pages, the first 24 pages of which are the translator's preface, 5 plates reproducing pages from early works by Grassus, original slip in case. Blind library stamp for Enrique Pantoja MD on front fly leaf.
Historical Significance:
This was the most popular ophthalmic manual in the middle ages for some 500 years. There are some 40 known texts (versions) of this book, 22 in manuscript form and 18 printed editions. The earliest version is from the 13th C. Beneventus was the most famous oculist and cataract operator of his day.
How Acquired:
Purchased by Kett Museum
Date Acquired:
March 2011
Condition:
Very good although slip case has worn
Location:
Nathan Library. Hewett collection