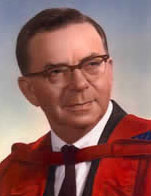 Engineering optics. The principles of optical methods in engineering measurement
Sub-Category:
Book of historical note
Author:
HABELL K J, COX Arthur
Year Of Publication/Manufacture:
1948
Time Period:
1940 to 1999
Place Of Publication/Manufacture:
London
Publisher/Manufacturer:
Sir Isaac Pitman and Sons Ltd
Description Of Item:
Original red cloth covers, 411 pages, 3 pages of advertisements, 182 black and white figures in text including many photographs of optical machinery and instruments.
Historical Significance:
Dr Arthur Cox BSc Durham, MA Cantab, DSc Newcastle (pictured) (1914 - 2007) was a well respected optical designer His first book, Photographic Optics, published in 1943, was written during the War Years and was such a success that today the book is in its 14th edition and has been published in several languages. He moved to the USA in 1947 to work for the Farrand Optical Company in New York and then became Chief Optical Designer at the Bell & Howell Company in Chicago. It was there that Cox did his most productive work. At Bell and Howell he was responsible for creating a wealth of products. In particular, under his guidance, the efficient manufacture of zoom lenses was developed. He was also responsible for developing methods for manufacturing aspheric surfaces in 1961.
How Acquired:
Donated by Family of N Jack Neilson, who worked with Australian Optical Company Ltd in Melbourne in the mid 20thC
Date Acquired:
March 2011
Location:
Archive room. East wall. Books of historical note