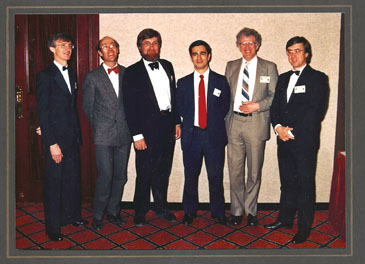 Colour photograph of (from left) Leo Carney, Robert Hess, Ian Bailey, Steve Zantos, Donald Mitchell and Tony Adams
Sub-Category:
Photograph People and events
Year Of Publication/Manufacture:
1988
Time Period:
1940 to 1999
Place Of Publication/Manufacture:
Sydney
Description Of Item:
Colour digital photograph of Leo Carney, Robert Hess, Ian Bailey, Steve Zantos, Donald Mitchell and Tony Adams taken at the 5th Australian Optometrical Congress held in Manly, Sydney, in April 1988.
Historical Significance:
The 5th Australian International Optometrical Congress was the national congress of the Optometrists Association Australia (then the Australian Optometric Association). That congress featured seven Australian optometrists who were pursuing academic careers overseas. All those speakers are in this photograph except Gerald Westheimer. Four of the seven were graduates in optometry at the University of Melbourne (Carney, Bailey, Mitchell and Adams), one, Robert Hess, graduated at the Queensland Institute of Technology, while Steven Zantos was a graduate of the University of NSW. Dr Westheimer was an optometry graduate from the Sydney Technical College. At the time of the photograph Dr Carney was Associate Dean at the Ohio State University, Dr Robert Hess was Professor of Ophthalmology and Director of Research in ophthalmology at McGill University, Dr Mitchell was Professor of Psychology at Dalhousie University in Canada, while Dr Bailey, Dr Adams and Dr Westheimer were professors at the School of Optometry at the University of California at Berkeley.
How Acquired:
Donated by Ian Bailey
Date Acquired:
April 2011
Location:
Archive computer iPhoto