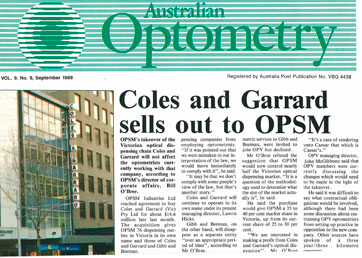 Australian Optometry Issue No 9 Vol 9 September 1988
Category:
Periodical, magazine
Association:
Australian Optometric Association
Year Of Publication/Manufacture:
1988
Time Period:
1940 to 1999
Place Of Publication/Manufacture:
Melbourne
Publisher/Manufacturer:
Australian Optometric Association
Description Of Item:
Tabloid newspaper format, 20 pages, colour printing, being Issue No 9 1988 of Australian Optometry.
Historical Significance:
This is the newspaper of the Australian Optometric Association and this particular issue carries the story of the purchase of the Melbourne firm of optometrists Coles and Garrard Pty Ltd by OPSM (Optical Prescriptions Spectacle Makers), a large listed optical dispensing company. This ran counter to the desire of many in the profession to exercise restraint in advertising in order to be accepted as a respected health care profession. On the retirement of Earle Coles, in the 1950s the firm became a staff owned business but still continued to advertise. OPSM had been founded in Sydney in 1932 specifically to dispense the prescriptions of ophthalmologists, who at the time were direct competitiors of optometrists for primary eye care. It expanded markedly in the 1950s and was publicly listed in 1953. Ophthalmologists welcomed the foundation of OPSM since their prescriptions for glasses no longer had to be dispensed by competitor optometrists. OPSM was a competitive threat to optometrists, including Coles and Garrard, whose practice relied to an extent on dispensing ophthalmologists' prescriptions. Moreover, OPSM could advertise and direct their clients to ophthalmologists at a time when ophthalmologists could not advertise for themselves. It was of concern to the profession that a spectacle dispensing company had bought an optometry firm (or at least its dispensing business arm). This was an important event in the move to removing from the Optometrists Act restraints on advertising by optometrists and the legal requirement that only optometrists could own optometry practices. OPSM closed Coles and Garrard a few years later and subsquently was itself taken over by Luxottica in 2003. There is an article by Keith Masnick on the issue of advertising and commercialism on the back page.
How Acquired:
Donated by Pamela Sutton, honorary archivist
Location:
Archive office. Pamphlet and ephemera filing cabinet. Drawer 4