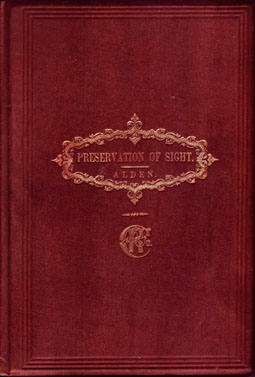 The human eye, Its use and abuse
Sub-Category:
Significant book (Aitken collection)
Year Of Publication/Manufacture:
1866
Place Of Publication/Manufacture:
Cincinnati USA
Publisher/Manufacturer:
Published by the author. Printed by R W Carter, Cincinnati
Description Of Item:
Original dark brown cloth covers with gilt titling and decoration, 138 pages, 1 page glossary, 1 page errata and 12 pages of advertisements, mostly for opticians, frontispiece and 29 black and white figures in the text. Rubber stamp for Loius Boerlin (Chicago instrument importer) on front paste down and title page.
Historical Significance:
This book is significant for being a very early text book by an American optician. It is rare for this time period. The book is addressed to the public rather than professional colleagues or students but deals in depth with the anatomy of the eye, refractive errors including astigmatism, cataract, strabismus and spectacles. The author acknowledges borrowing some content from J Soelberg Wells 'Impaired vision' of 1862 (cat No 38) as well as other ophthalmologists and researchers such as Donders, v Greefe, Porterfield, Helmholtz and Mackenzie.
How Acquired:
Donated by Michael Aitken, honorary archivist
Condition:
Very good (except missing one leaf viz.p 133/134. Noted 30 Sept 2011)
Location:
Nathan Library. Aitken collection