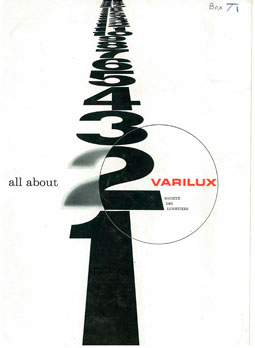 Product brochures for Varilux progressive power lenses
Sub-Category:
Ophthalmic product brochures
Time Period:
1940 to 1999
Place Of Publication/Manufacture:
France
Description Of Item:
Three ophthalmic product brochures about Varilux lenses. (1) 'All about Varilux', stiff card cover, 2 colour printing throughout, 12 pages plus a tipped in four page 'Practical guide for the fitting of Varilux lenses', undated (but c 1960), published by Societe des Lunetiers, Paris. (2) 'Varilux 2 Modulated Optical Lens', stiff card cover, 12 pages, undated (but c 1972), published by Essilor International. Paris. (3) ' Hoya Lens Varilux II Handbook', stiff card white cover, 11 pages, plus a tipped in one page specification of the Varilux II eyepoint gauge and a one page chart of availability of lens powers, undated (but 1970s) published by Hoya Glass Works Ltd, Tokyo. See also Cat Nos 717 and 1387.
Historical Significance:
Varilux is a brand name belonging to Essilor International, a producer of corrective lenses. It is used to designate the first progressive power lens to correct presbyopia, which was invented by Bernard Maitenaz. The first version of the lens was released in 1959.Varilux became a successful venture with sales rising from 6000 in 1959 to 2 million in 1969. Essel was founded in 1849 (then-called L'Association Fraternelle des Ouvriers Lunetiers) as a small network of eyeglass assembly workshops in Paris. It quickly expanded in the late 19th and early 20th century through the acquisition of factories in nearby Parisian neighbourhoods and in Eastern France. Essel soon added frame design and trade to its activities. The firm successfully launched an innovative frame design in 1955 called Nylor (Nylon rim spectacles) which is still used today. Essel's major breakthrough came in 1959 with the invention of Varilux, the first ophthalmic progressive lens. It merged with Silor in 1972 to become Essilor. Silor first started under the name Lissac in 1931 as a retailer of ophthalmic lenses and frames before becoming a lens manufacturer. In 1959, Lissac made an important development of its own: the Orma 1000 lens, made from a lightweight and unbreakable plastic (CR39). After many years as rivals, Essel and Silor merged together on 1 January 1972 to form Essilor, the then third-largest ophthalmic optical firm in the world. Varilux 2 was introduced soon after the merger. Note however that CR-39, or allyl diglycol carbonate (ADC) was first used for spectacle lenses by Armorlite Lens Company in California in 1947.
How Acquired:
Ex Nathan Library
Location:
Archive office. Pamphlet and ephemera filing cabinet. Drawer 5