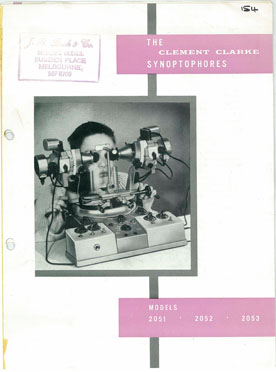 The Clement Clarke synoptophores
Sub-Category:
Ophthalmic product brochures
Corporation:
Clement Clarke Ltd
Year Of Publication/Manufacture:
mid 1960s
Time Period:
1940 to 1999
Place Of Publication/Manufacture:
London
Publisher/Manufacturer:
Clement Clarke Ltd
Description Of Item:
Quarto size product brochure for Clement Clarke synoptophores, printed paper 2-colour cover. 14 pages including cover, photographs of synoptophores, stamped 'JR Beck and Co, Mason Buildings, Sugden Place, Melbourne MF 8709'. It also includes a separate sheet giving information on the space coordinator an instrument using Haidinger's brushes for the treatment of eccentric fixation.
Historical Significance:
The synoptophore was a much used instrument for orthoptic diagnosis and treatment in the strabismus and other binocular disorders in the mid 20th C. It is a technical elaboration of the Worth amblyoscope devised about 1900 by Claude Worth (1869-1936), a London based ophthalmologist, which was based on an earlier similar device called 'fusion tubes' invented by Priestly-Smith in 1896. Black added the vertical adjustment in 1906 so it became the Worth-Black amblyopscope. It fell out of use in the second half of the 20th C in favour of simpler devices that could be used for home-training as well as in the consulting room, such as those devised by the Bernell Corporation.
How Acquired:
Ex Nathan Library
Location:
Archive office. Pamphlet and ephemera filing cabinet. Drawer 5