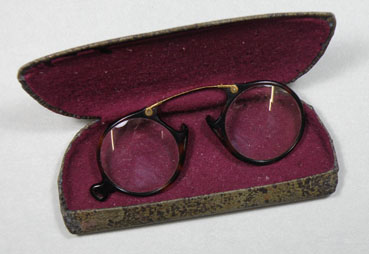 'Tortoiseshell' round eye pince-nez and snap case
Category:
Spectacles and lenses
Year Of Publication/Manufacture:
c 1910
Time Period:
1900 to 1939
Description Of Item:
'Tortoiseshell' round eye pince-nez with cleverly shaped pads extending from the rims and a 'gold' spring bridge. The right rim has a small extension for threading a cord. Glazed with +2.50 D R and L single vision glass lenses. Contained in original metal snap case bearing the label of Melbourne optometrist, 'Sydney Addison 167 Collins Street '.
Historical Significance:
This is a very elegant pince-nez similar in style to that depicted on p 243 of Corson R Fashion in eye glasses and stated to be c 1914.
How Acquired:
Donated by John Buckley, member of the College
Condition:
Very good although case is worn
Location:
Archive Office. Spectacles cabinet Drawer 9