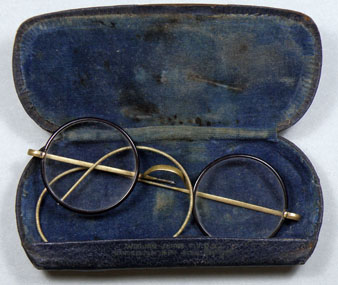 Round eye curl side spectacles and snap case
Category:
Spectacles and lenses
Sub-Category:
Spectacles with case
Year Of Publication/Manufacture:
1920s
Time Period:
1900 to 1939
Description Of Item:
Round eye spectacles, dark brown rims and 'gold' metal curl sides, glazed with flat single vision lenses approx + 2.50 D right and left, contained in an original dark blue metal snap case bearing the details of Melbourne optometrist William Johns, Manchester Unity Building with an unreadable phone number. 115 x 65 mm.
Historical Significance:
William Johns FFBOA Hons FVOA was prominent in the early days of the Australian College of Optometry. He was its Director of Studies from 1946 to 1950 and a foundation member of the College Council until 1950. His photo is Cat 378. Notes about him are at Cat No 533. See also Cat No 552.
How Acquired:
Donated by John Buckley, member of the College
Condition:
Poor, right side broken and case dilapidated
Location:
Archive Office. Spectacles cabinet Drawer 12