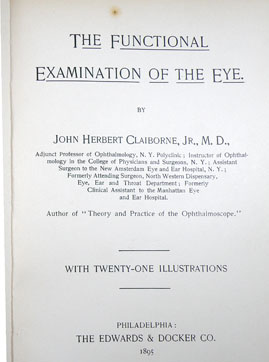 The functional examination of the eye
Sub-Category:
Book of historical note
Author:
CLAIBORNE John Herbert
Year Of Publication/Manufacture:
1895
Place Of Publication/Manufacture:
Philadelphia
Publisher/Manufacturer:
The Edwards and Docker Co
Description Of Item:
Original brown cloth cover gilt stamped with title and name of author, 96 pages and 4 pages of book advertisements, 21 figures in text. last 10 pages are a near readng chart and Snellen test types. Name of previous owner Roy B Wheeler on front fly leaf.
Historical Significance:
This book is of interest because it is an early book devoted solely to refraction and correction of refractive errors written by an ophthamologist. John Herbert Claiborne Jr MD (1861-1923) was a New York ophthalmologist with numerous clnical and teaching appointments in New York hospitals. He wrote a number of articles on diverse topics in ophthalmology and another book 'Theory and practice of the ophthalmoscope'. His father Dr. John Herbert Claiborne ( 1828 - 1905) was a prominent Virginia politician and a leading medical administrator commanding a series of hospitals serving wounded Confederate soldiers during the American Civil War.
How Acquired:
Purchased by Kett Museum
Condition:
Good except for paper adhesions on front and back paste downs
Location:
Archive room. East wall. Books of historical note