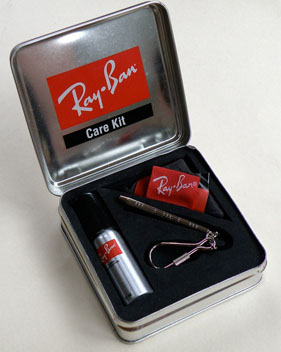 Ray-Ban care kit for glasses
Category:
Spectacles and lenses
Sub-Category:
Spectacle accessories
Description Of Item:
Cleaning kit in polished metal box, 105 x 105 x 32 mm, with a hinged lid, containing a spray phial of Ray-Ban lens cleaner, a black lens cleaning cloth neatly folded and tied with a red cloth tie bearing the words 'Ray Ban' and a chrome metal screwdriver with a screw cover for the blade and a metal belt clip. The items are packed in a moulded hard foam base within the metal container.
Historical Significance:
Ray-Ban is a brand name of sunglasses created in 1937 by USA optical manufacturing giant, Bausch & Lomb. They were introduced for use by the United States Army Air Corps. In 1999, Bausch & Lomb sold the brand to the Italian Luxottica Group for a reported 1.2 billion dollars Some years before Ray-Ban sunglases were created, Lieutenant John MacCready had returned from a balloon flying adventure and complained that the sun had done permanent damage to his eyes. He contacted Bausch & Lomb asking them to create a type of sunglasses that would not only provide protection, but also look elegant. On May 7, 1937, Bausch & Lomb officially took out the patent. The prototype, known as Anti-Glare, consisted of an extremely light frame weighing 150 grams. They were made of gold-plated metal with two green lenses made of mineral glass to filter out infrared and ultraviolet rays. Pilots in the United States Army Air Corps immediately adopted the sunglasses. The Ray-Ban Aviator became a well-known style of sunglasses when General Douglas MacArthur landed on the beach in the Philippines in World War II, and photographers snapped several pictures of him wearing them.
How Acquired:
Donated by Pamela Sutton honorary archivist
Date Acquired:
March 2011
Location:
Archive office. East wall shelves unit 3. Drawer 5