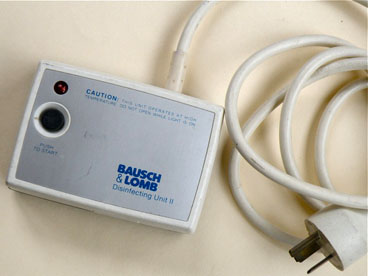 Bausch and Lomb Thermal Disinfecting Unit II for contact lenses
Category:
Spectacles and lenses
Sub-Category:
Contact lenses and accessories
Corporation:
Bausch and Lomb Soflens Division
Year Of Publication/Manufacture:
c1982
Time Period:
1940 to 1999
Place Of Publication/Manufacture:
Belgium
Publisher/Manufacturer:
Aseptron
Description Of Item:
Bausch and Lomb Disinfecting Unit II for contact lenses, white plastic case, 110 mm W x 72 mm D x 36 mm H, with silver top surface and black plastic base. The top has a red operating light and push button to start and carries the words 'Bausch and Lomb Disinfecting Unit II'. The underside has operating instructions and a serial number. White electric lead and plug. The top opens to give access to a cream coloured bath.
Historical Significance:
Bausch and Lomb, along with American Optical Company, was a large and dominant USA manufacturer of spectacle lenses, photographic lenses, binoculas, telescopes and ophthalmic equipment fro over 150 years. It was founded in 1853 by German emmigrants, John Bausch and Henry Lomb. The former was a trained optician. In the 1980s it faced strong competition especially from Japan, and it sold its lens manufacturing division and gradually withdrew from ophthalmic instrument manufacture. Instead it developed the manufacture of surgical products. It sold its highly successful Ray-Ban sunglass name to Luxottica in 1999 after more than 60 years of commercial success with the product. In 1971 it entered the contact lens market with contact lenses made of Poly-HEMA made by a patented method of spin casting. In contrast to the contact lenses available up to that time, made of glass and Lucite (acrylic glass) the new lenses were softer and considerably more comfortable to wear. Thereafter, the name "Soflens" became a brand name known worldwide. This unit provides disinfection by boiling the lens, a method discontinued in the 1980s when it was found that boiling increases the adherence of lens deposits.
How Acquired:
Donated by Pamela Sutton, honorary archivist
Date Acquired:
March 2011
Location:
Archive room. West wall. Unit 6 Overhead display