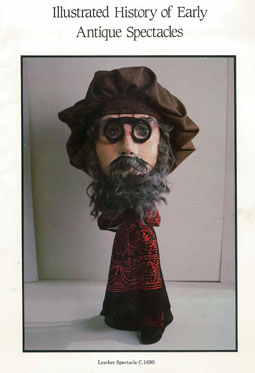 Illustrated history of early antique spectacles
Sub-Category:
Hewett collection
Year Of Publication/Manufacture:
1985
Time Period:
1940 to 1999
Place Of Publication/Manufacture:
Luton, England
Publisher/Manufacturer:
Hugh Orr, Kent, England
Description Of Item:
Stiff card pictorial colour printed covers, 112 pages, profusely illustrated mostly with black and white photographs. A short prospectus of the book is tipped in. Inscription on inside front cover reads ' First edition of my book, Hugh Orr, July 1985'.
Historical Significance:
Hugh Orr was an English optometrist and a long time collector of antique spectacles. He was for some years an honorary curator of the BOA Museum collection. His book covers much of the associated history of spectacles with notes on early opticians, items of ophthalmic apparatus and many illustrations. Among the chapters are ones on leather spectacles, orators' spectacles, rivet spectacles, folders, monocles, scissor spectacles and early Chinese spectacles.
How Acquired:
Donated by Michael Aitken, honorary archivist
Location:
Nathan Library. Hewett collection