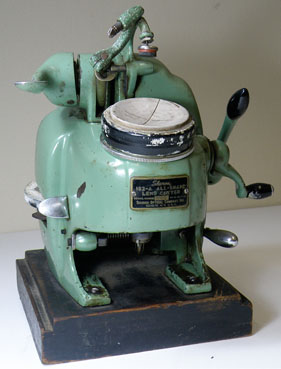 Sub-Category:
Lens Cutter
Year Of Publication/Manufacture:
1950 ?
Time Period:
1940 to 1999
Place Of Publication/Manufacture:
Geneva, New York
Publisher/Manufacturer:
Shuron Optical Company Inc
Description Of Item:
Shuron lens cutter, green enamelled metal machine 300 mm high mounted on a wooden base195 x 195 mm, spindle for attaching a template undeneath and scaled wheel for adjusting lens size on left hand side, lever on right side to bring the template guide arm to bear on the template, round turntable with rubber cushion for the lens, handle for bringing the lens clamp and cutter blade down on to lens and a second handle on the right side for locking the lens clamp, handle for rotating the turntable. Metal plate affixed to front reading 'SHURON 182A ALL SHAPE LENS CUTTER SERIAL NUMBER 189 SHURON OPTICAL COMPANY INC GENEVA N.Y. U.S.A.
Historical Significance:
Shuron Optical Company was founded in 1865 and still operated (in 2011) as a frame manufacturer, famous for its brow line style devised by Shuron's Vice-President Jack Rohrbach in 1947. It was a producer of optical products and machinery particularly in the 1920s. Lens cutters were used to rough cut ophthalmic lenses to shape and size. The lenses were then hand edged with a smooth bevel edge using a rotating polishing wheel.
How Acquired:
Donated by Colin Bates, member of the College
Condition:
Fair. Enamel chipped and stained
Location:
Archive room. West wall. Unit 2 Overhead display