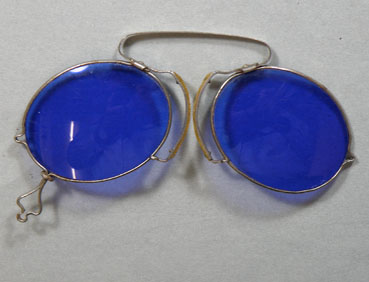 Folding steel pince-nez with deep-blue lenses
Category:
Spectacles and lenses
Description Of Item:
Folding steel rimmed glazed pince-nez with tempered flexible steel bridge and synthetic ridged cushioning on nose guards. The nose guards are part of the spring bridge and are fixed at two points on the rims. The outer edge of one rim has a simple metal loop to take a cord and a projecting catch to hold the other lens when folded. The other lens has a small loop on it. Glazed with meniscus glass plano lenses tinted deep blue. There are no screws on the rims so the lenses are fitted by precise edging of the lenses. 90 x 55 mm.
Condition:
Good except for slight corrosion of the metal
Location:
Archive Office. Spectacles cabinet Drawer 9