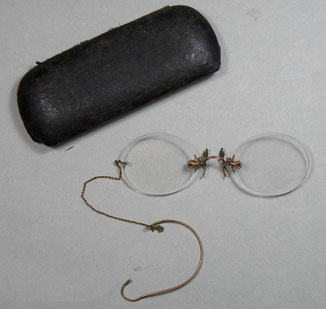 Rimless pince-nez with chain and hook
Category:
Spectacles and lenses
Year Of Publication/Manufacture:
Early 20thC
Time Period:
1900 to 1939
Description Of Item:
Rimless oval eye pince-nez with gold bridge contained in a small black fabric covered metal snap case. Case has an illegible suppliers trade mark on the front. The back of the bridge is engraved with now illegible gold content markings. The nose pads have an intricate spring mechanism to adjust width for the nose and is held by screws through the lenses. The right lens has another hole near the outer margin through which is fixed a fine 10 cm gold chain with links to a hook section to fit over the right ear. The lenses are flat approx 1.0 D sph R and L. 100 x 33 mm.
How Acquired:
Donated by Harold Edwards, Melbourne optometrist
Condition:
Very good exept case is in poor condition.
Location:
Archive Office. Spectacles cabinet Drawer 9