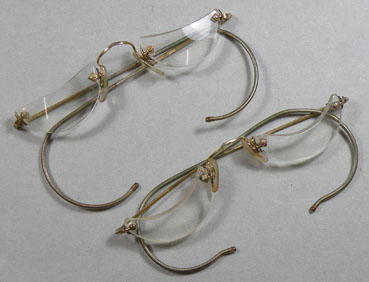 Two half moon rimless lookover spectacles
Category:
Spectacles and lenses
Sub-Category:
Spectacles (with lenses)
Year Of Publication/Manufacture:
c 1950 ?
Time Period:
1940 to 1999
Place Of Publication/Manufacture:
England
Publisher/Manufacturer:
Algha
Description Of Item:
Half moon or crescent shaped lenses in rimless look-overs, gold filled frames, adjustable plastic pad bridge and curl sides. Lenses held by 2 screws. Sides are engraved 20.10 (indicating gold content) W.O.Co (= Wiseman Optical Company). Back of bridge engraved 'Algha'. Each set glazed with + 3.00 D sph right and left. Set (1) 112 mm wide. Set (2 ) 122 mm wide. Contained together in old brown snap case with original owner's name 'D Bouchier Geelong College' inside lid and suppliers logo 'Coles and Garrard Melbourne' faintly legible underneath case.
Historical Significance:
The frames of these lookovers were made by the Algha Works of M Wiseman and Co Ltd. Max Wiseman had built a successful business in London in the early 1920s making and selling lenses and frames. His metal frames were imported from Germany but rampant inflation in Germany in the 1930s had made those frames too expensive. Wiseman asked his sons to set up a factory to make rolled gold spectacle frames. They did so in 1932 by purchasing a whole factory from Germany and employing 10 technicians from Germany. The new factory in London was named the Algha Works. During World War 2 (1939-1945) the company diverted part of its production to gas mask frames and aviator goggles and the German technicans were incarcerated. The company is still extant http://www.algha.com and makes gold eyewear under the trade name of Saville Row Eye-Wear London. SET 2 IN NATHAN LIBRARY FOYER UPPER DISPLAY NORTH WALL
How Acquired:
Donated by Audrey Smith
Condition:
Good but (1) has a chipped lens & (2) is missing 4 lock nuts
Location:
Archive Office. Spectacles cabinet Drawer 16