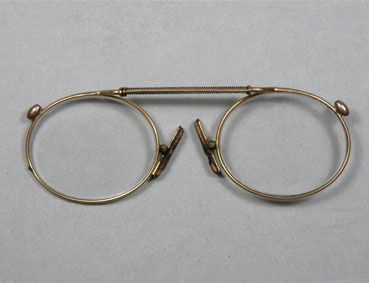 Category:
Spectacles and lenses
Year Of Publication/Manufacture:
c 1890
Description Of Item:
Gold filled oval eye pince nez with a spring mechanism bridge to enable the pince-nez to adjust to various nose sizes and hold them securely. The adjustable horizontal bridge mechanism keeps the oval shape of the lens horizontal and the axis of any cylindrical corrctive lens on axis. The eye rims are joined by elegantly designed screwed lugs to secure the lenses in the frame. Swivel nose pads with cork cushions. Glazed with 2.50 D sph right and left. 96 x 36 mm. 95 x 76 mm.
Condition:
Fair, pads perishing and missing metal loop for cord
Location:
Archive Office. Spectacles cabinet Drawer 9