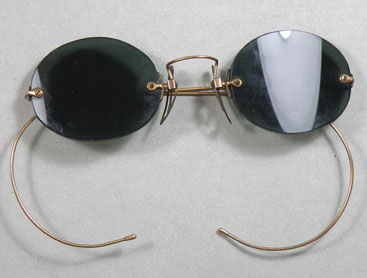 Rimless sunglasses in gold-filled frame with curl sides
Category:
Spectacles and lenses
Year Of Publication/Manufacture:
c 1920?
Time Period:
1900 to 1939
Description Of Item:
Fine gold-filled oval eye rimless frame with light weight curl sides. Unusually ornate metal nose pads with a milled surface for a better grip. Glazed with glass meniscus plano lenses tinted dark grey, each lens held to the frame by two screws. Front 98 mm W x 32 mm H.
Historical Significance:
This is a well preserved example of early 20th C sunglases with a light weight delicate gold frame
Condition:
Good although sides are excessively splayed
Location:
Archive Office. Spectacles cabinet Drawer 3