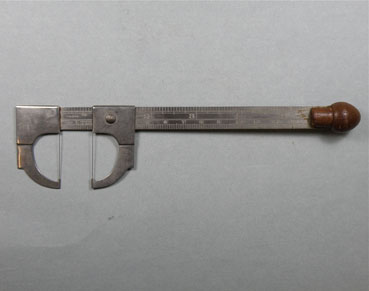 Harman's rule (interpupillary distance gauge)
Sub-Category:
PD ruler, pupillometer
Year Of Publication/Manufacture:
1958 ?
Time Period:
1940 to 1999
Place Of Publication/Manufacture:
London
Publisher/Manufacturer:
George Culver Ltd
Description Of Item:
Steel ruler marked in inches and millimetres with satin wood knob at one end and two crescent shaped steel prongs supporting vertical alignment wires, one fixed at the start of the scale while the other can be slid along the scale. Engraved on the back of the rule is 'HARMAN'S RULE Registered No 552227/Sole proprietors GEORGE CULVER LTD LONDON'. On front 'C.A.3557/ STANDARD AT 20 C'
Historical Significance:
This rule is for measuring interpupillary distance, that is the distance between the two eyes. The rule is held up in front of the two eyes and the wires are aligned with the corneal reflexes of the eye to measure the horizontal distance between them. The date of manufacture of 1958 is that given by the British Optical Association Museum in its catalogue but it is possible that it dates from the first half of the 20thC.
How Acquired:
Donated by British Optical Association Museum
Location:
Archive room. West wall. Unit 2 Overhead display